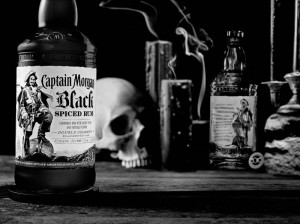 Captain Morgan is moving into the future by retuning to its roots with classic, classy cocktails from a spiced rum that works like whiskey. Welcome to the party, Captain Morgan Black Spiced Rum.
This new version of Morgan isn't as sweet as its traditional counterpart. Instead, it is rich and dark, hinted with a taste of Honduran Mahogany, cinnamon and clove. Captain Morgan Black is also higher in alcohol content with a proof of 94.6 so drinkers beware.
To promote their new progressive line of liquor, Captain Morgan is hosting a tasting tour that goes back in time. The Tampa event, held at Ciro's Speakeasy, a prohibition-style, secretive speakeasy, featured a lesson in liquor by one of the best in the business, Toby Maloney.
Maloney, a world renown mixologist and legendary bar owner, gave a presentation that showed how to concoct cocktails with artistry and alchemy. This was no Captain and Coke (even though those are pretty good too).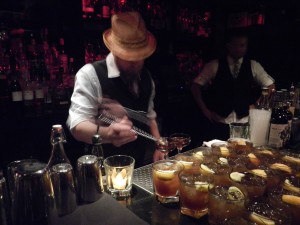 So to tribute the new wave of Captain and the crazy liquor chemistry of Toby Maloney, we are going to share with you some of the new recipes you can use to create your own cocktails that will have you friends sipping and sighing with delight. Along with drink recipes, we are going to share with you some secrets and history about classic cocktails and the real Captain Morgan.
The Legend of a Legend
Admiral Henry Morgan was one of the most notorious and successful pirates of all time. As a privateer – a person hired by government to attack foreign ships – he was a ruthless, enigmatic man loved by preachers and prostitutes, low-lifes and high-level royals.
On August 25, 1688, at the age of 53, Captain Morgan met his final demise in Port Royal, Jamaica. Legend has it that during the Captain's funeral procession an earthquake rocked the island – erupting geysers and churning waves – knocking the Captain's casket in the wild waters.
Most believe it was the Captain's restless spirit that commanded the winds and waves to send him to his final unresting point where he could be free to haunt the seas for eternity.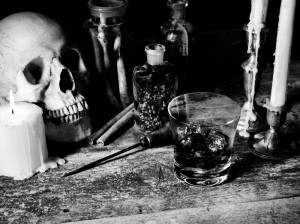 Create a Captain Black Cocktail
Captain Morgan on the Rocks
1 1/4 oz. Captain Morgan Black Spiced Rum
Add to an ice-filled rocks glass.
Captain Morgan Black and Honey
1 1/4 oz Captain Morgan Black Spiced Rum
3/4 oz fresh squeezed lemon juice (Real lemon juice comes from the lemon, not a yellow bottle.)
1/2 oz honey
1 lemon wedge
Combine liquid ingredients in a cocktial shaker with ice, shake until cold. Serve in a rocks glass – garnish with the lemon wedge.
Henry Morgan's Old Fashioned
1 1/4 oz Captain Morgan Black Spiced Rum
3 dashes of bitters
1 packet of raw sugar
1 orange twist
Place the orange peel, suger and few drops of water in a sturdy rocks glass and muddle with the back of a spoon. Stir the remaining ingrediants in a cocktail glass with ice and strain into a rocks glass over fresh ice.
Perfectly Black
1 oz. Captain Morgan Black Spiced Rum
1/2 oz Sweet Vermouth
1/4 oz Dry Vermouth
3 Dashes Bitters
1 Lemon Twist
Combine liquid ingredients in a mixing glass with ice and stir to perfection. Strain into a cocktail glass and garnish with a lemon twist.
Check out Part 2 (the history of cocktails) and Part 3 (the history of rum) of our Captain Series.