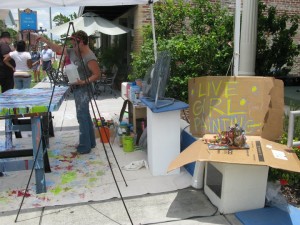 On the first Saturday of the month, the businesses on 19th Street in Ybor City, between 8th and 9th Avenues, host an free, open house event featuring live art demonstrations, music, and more.
Each month new local artists, crafters & musicians are featured during the event that runs from 10:00 am to 4:00 pm.
Fine art and Craft produced by local artisans will be on display and for sale at The Singing Stone Gallery, Arnold Martinez Gallery, Tre Amici @ The Bunker, The Ybor City Museum Store and The Ybor City Museum State Park. All galleries and studios are housed in restored structures from the 1900's on 19th street in the "artsy metropolis" of Ybor city.
Singing Stone Gallery is a working studio and gallery featuring Dan Balk's Fine Art Jewelry, eclectic contemporary craft and fine art. The Gallery is owned and managed by Nataly Balk, who takes pride in exhibiting and supporting over 30+ local and regional artists working in a broad range of fine art and contemporary craft.
Arnold Martinez is a 40 year self taught master painter, using acrylics and "innovative medium he developed using tobacco, tea, coffee, and even beer and wine. What he mixes will relate to the image that he is creating." Arnold and his wife, JoAnne will both be in their studio/gallery to discuss art, their work, and demonstrate their creative process.
Tre Amici @ The Bunker is a local cafe' that offers organic/fair trade products, supports local artists and musicians, and welcomes customers, local residents and students to the best coffee and wine bar Ybor City has ever seen! Be sure to try some home made pastries and original sandwiches.
The Ybor City Museum Store offers Ybor memorabilia, including cigars, t-shirts, coffee mugs and books! The Ybor City Museum Society invites you to experience the rich cultural heritage of Ybor City, one of only two National Historic Landmark Districts in Florida.
Ybor City Museum State Park exhibits the historic art of cigar labels and more. View rare labels that were once a major source of advertisement and explored themes of sex appeal, politics and patriotism, celebrities and social life. Visitors will get an inside look at the German immigrants and the printing houses that produced these extraordinary works of art. The museum admission fee is $4.00.