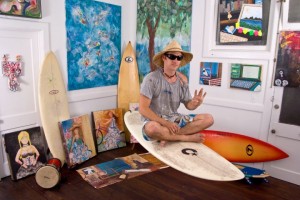 Once a month an art showing is going on in Ybor.
But unlike most gallery open houses, there won't be finished paintings hanging on the walls in deliberate, well-lit spaces or uptight art investors deconstructing every minute detail of a completed multi-media sculpture.
This isn't your typical art display because this isn't an exhibit of art as an object, this is an exhibit as art as an action.
The Ybor Art Colony– a collection of art studios located on Seventh Avenue above the King Corona Café – welcomes visitors inside of their creation space on the second Saturday of every month for an Art Open House. About a dozen artists open their studio space in effort to share their work beginning, middle and end.
Many of the artists will be at work during the event, so visitors will have an opportunity to witness the art in action.
The Ybor Art Colony Open House is on the second Saturday of every month from 5-9 pm. The event, which is sponsored by the Ybor Arts Association, is free. Art and drinks will be for sale.
The Colony is located at 1521 1/2 Seventh Avenue. 
Check out some of the Artists.
Hance Clay
Jason Shivers
Elizabeth Carson