Many Floridians enjoy inviting their family and friends to visit regularly, and relish in the excitement of showing their beautiful home state off. And for those of us who live in Tampa Bay, we look forward to traveling to the beaches with our visitors, or taking off from work to hit Busch Gardens on a weekday. If you have loved ones arriving in town soon, be sure to send them this packing list so they don't show up unprepared.
Rain Gear for the Summer Monsoon Season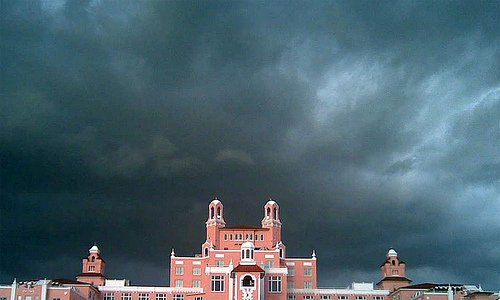 Image via Flickr Fifth World Art
If your family or friends are planning on visiting you during the summer months in Florida, they definitely need to arrive equipped with rain gear. Even though we are the "Sunshine State," summer is our wet season. However, the rain usually doesn't last longer than an hour a day.
If they're planning on visiting any theme parks, attending sporting events, or engaging in other outdoor activities, your guests should definitely carry rain gear with them or they'll be walking around soggy the rest of the day. Items to pack include ponchos, rain boots or water shoes, and an umbrella. They should bring their rain gear as they travel, whether they drive down or fly with United Airlines, because the weather is unpredictable.
Bug Spray for Repelling the Giant Mutant Bugs
As with any humid climate, Florida has a plentiful mosquito population. Floridians learn to deal with them by hiding in their homes after 4 p.m., or always having bug spray with them. Don't send your relatives home covered in red bug bumps, either throw some bug spray in their bag when they venture out of your house for the day, or remind them to pack some.
Bathing Suits for (Fairly) Obvious Reasons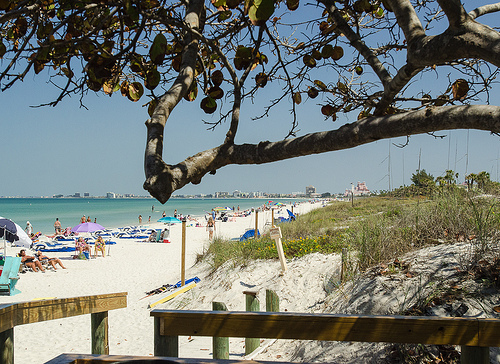 Image via Flickr Fifth World Art
Practically any time of the year in Florida, you'll undoubtedly be able to find somewhere to swim. Many hotels have indoor or heated pools, and many houses have hot tubs. If your family is from the Northern states, they'll probably be in the ocean even in the dead of the winter. Remind them to bring more than one bathing suit so they don't have to throw on wet trunks or soggy bikinis.
Dress Attire to Enjoy the Swank Places
The Tampa Bay area has so many amazing restaurants, theaters, and clubs. Be sure to suggest that your loved ones bring semi-formal wear for some of the finer dining establishments like Bern's Steak House, Columbia, and Ciro's Speakeasy and Supperclub. They will also need dress clothes if they want to see a play or symphony at one of the many beautiful theaters in Tampa or St. Petersburg.
The Tampa Bay area houses myriad bars and night clubs as well. While some are more casual, others are high-scale with dress codes enforced. If your visitors are coming to party, don't let them arrive without the correct wardrobe.
Active Shoes for Running on Bayshore Blvd.
Your family and friends may not want to step into a gym while they're visiting you, but they will want to spend most of their time outside. Suggest they pack some active shoes so they can hike, jog, or walk the many state parks, sidewalks, and running trails around Tampa Bay.
And if they like to run at all, they will definitely want to take a jog along beautiful Bayshore Blvd. which claims to be the longest sidewalk in the word at 4.5 miles. The waterside run with views of Tampa's downtown might actually be the only way to get a vacationer excited about exercising.
Half of the fun of living in Florida is how unpredictable the weather is. The other half is enjoying the sunshine in paradise, the unlimited options of fine dining, and the bustling night life that never bores. Share the wonders of Bay the area with your loved ones — just be sure they packed accordingly. What other items do you feel are essential for Bay area visitors to pack?
Comments