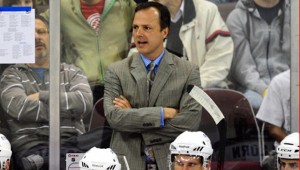 If this were a poker game, Lightning GM Steve Yzerman just bluffed us.
He bluffed us good.
He led us to believe he had a pair of 2's when he was really holding a royal flush. He pushed all of his chips into the pile and we fell for it hook, line, and sinker. After all, we had a great hand: Lindy Ruff, the former Buffalo Sabres coach, a 16-year veteran and the longest tenured coach in the NHL. He's brash, fiery, and possesses the moxy to whip our young team into shape.
Then Mr. Yzerman revealed his hand.
Jon Cooper. What?
This isn't unheard of in the world of sports. Many teams opt for the young up-and-comer; just ask the Buccaneers. When Jon Gruden was fired in 2009, they were quick to hire young defensive coordinator Raheem Morris and he's younger than cornerback Ronde Barber.
But Jon Cooper? Really?
While young coaches often tend to be a bit of a poor gamble (Raheem Morris), you can't deny what 45-year old Cooper has been able to achieve during his stint at the helm of Tampa Bay's minor league affiliate.
While coaching the Norfolk Admirals last season, Cooper led the team to the Calder Cup championship, and set a North American record for professional hockey teams when the Admirals had a 28-game win streak. This year, he guided the Syracuse Crunch to the top of the AHL, even after sending many of his stars up to the Bolts mid-season.
The praise doesn't end with accolades.
They'd be pretty crazy not to take him," goaltender Dustin Tokarski said. "He's one of the best coaches I ever played for. The way he gets guys to work for him is something else."
Steve Yzerman also spoke to his new coach's abilities.
"He's the guy I wanted," general manager Steve Yzerman said. "There were other options out there, and good options, but I didn't consider that. I felt he is the right guy."
Looking forward, the Bolts face a lot of uncertainty. They must find a cure to their lack of depth at goaltender, their leaky defense, and their Jekyll & Hyde style of play.
Our new coach will no doubt have his hands full.
While the younger players, and there are many of them, will most likely respond well to his style (after all, many of them played under him in Norfolk/Syracuse), the veterans may need to warm up a bit before their comfort level is where it was with Guy Boucher. But maybe youth is just what we need.
While I was initially hoping for Lindy Ruff (an NHL veteran is, on paper at least, a smart addition to a young team), there is something about Cooper that has me excited about next season.
Cooper will begin his tenure with the Bolts on Friday when they take on the New Jersey Devils at the Tampa Bay Times Forum. Assistants Dan Lacroix and Steve Thomas will remain; assistant coach Marty Raymond will head down to Syracuse to aid with the transition.
Welcome to Tampa Bay Coach Cooper.
Now get to work.
About the Author
Matt Foley is a freelance writer, former Tampa Bay Times contributor, and avid sports enthusiast.