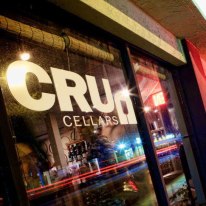 Are you tired of feeling completely uneducated when it comes time to order wine when out with classy colleagues and fancy family?
Cru Cellars, located at 2506 S. MacDill Avenue, wants to save you from that pit of embarrassment. They are offering wine education classes to help bring you up to speed on the ways of wine.
Monthly Wednesday Wine Tastings
Description: Walk-Around Wine Tasting, featuring 10-15 different wines.
Date: First Wednesday of the Month
Time: 6:00-8:00 PM
Cost: $15
How to Register: RSVP to jen@crucellarstampa.com or call 813-831-1117
Class:  Spanish Wine – Traditional vs Modern
Description: Sit down with Wine Director William Lucius and Spanish Importer John Kimball for an in-depth look at the major wine regions of Spain.  Learn what makes a Spanish wine more traditional vs modern, and taste a number of examples.
Date:  Tuesday, Jan. 22nd
Time: 6:30-8:30 PM
Cost: $25 – Pre-Registration Required
How to Register: Call 813-831-1117
Class: Cru U Level 1 (Freshman)
Description: Really learn about wine, once and for all. The Freshman level class will explore the components involved in tasting wines – learn how to correctly perceive acid, tannins, alcohol, and sweetness, and learn what those characteristics mean when describing a wine. Learn in-depth info on the major white grapes and red grapes of the world, and receive an overview of the major wine-producing countries, with emphasis on New World vs Old World characteristics. Taught by Wine Director William Lucius and Assistant Wine Director Adam Wilson
Date: Monday, February 11th
Time: 6:00 – 9:00 PM
Cost: $40 (Includes lots of wine and a cheese plate)
How to Register: Email Jen atjen@crucellarstampa.com or call 813-831-1117.
Class Cru U Level 2 – Regions and Terroir
Description: Build upon what you learned in the Freshman course!  Learn much more about the concept of terroir and how different the same grape can taste from different growing regions (and taste many examples)!  Learn to describe what you like in a particular wines, and explore wines from various countries!
Details to be announced. Call 813-831-1117 for more information.
About Cru Cellars
Voted Tampa's "Best Wine Bar," Cru Cellars is happily and obsessively wine focused, with more than 25 wines by-the-glass and seven different wine flights served in the back Wine Bar!