Geri X's voice is like a black hole. You can help but get sucked in.
The seductive sounds of this Bulgarian-born singer songwriter is a brilliant, mysterious mix of vulnerability and power. Whether its an acoustic, stripped solo or full-band, wired rock performance, every one of Geri X's songs are as inviting and intriguing as the artist behind them.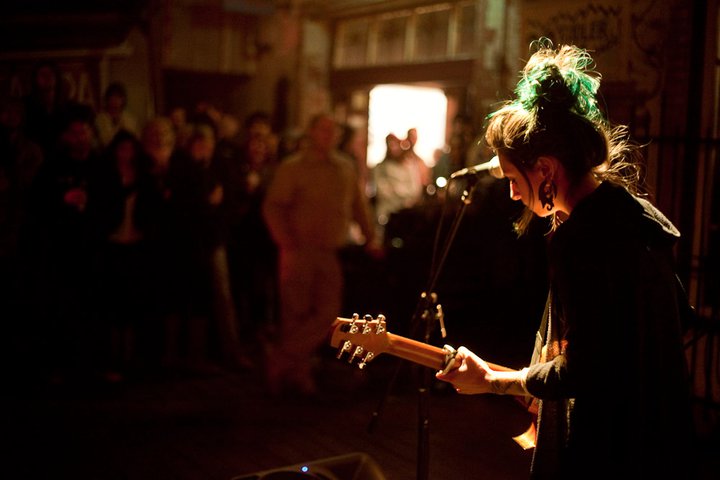 When Geri X was growing up in France, she already knew that music was all she wanted to do. At 16 she wrote and released her first record, and after she compared high school to babysitting, she convinced her mother to let her drop out and start touring.
Seven years later, she has written over 800 songs and released 13 albums. The sound on each of her songs is uniquely her own. Having established herself as an artist at a young age, it's easy to hear that Geri X's knows exactly who she is as a rebellious artist and deep musician. Poetic and romantic yet independent and tough, her music feels like it was written just for you, even thought you can tell that Geri X wrote it for herself, without ever really caring what anyone else would think.
There is a reason she has been Creative Loafing's including Creative Loafing's Best Singer Songwriter twice.
Geri X
Currently Living: St. Pete
Originally From: Born in Pleven, Bulgaria and raised mostly in Pleven and Versailles, France
Favorite Local Musicians: Have Gun Will Travel, Sons of Hippies, Will Quinlan, Rebekah Pulley, the Wallies, Tallheart, and Red Feather
Favorite Places to Play in Tampa: New World Brewery, the Local 662, Ale and the Witch  ("Venues most of the time look at me as a piece of meat, but these few actually care about the music.")
Favorite Places to Hang Out: Same as Favorite Places to Play in Tampa (and for all the same reasons)
Favorite Restaurants in the Bay: Bangcok Thai in St. Pete, the Boundary, Cassis, and Ciros
Influences: Blues and jazz – Muddy Waters, Billie Holiday, Magic Sad, Little Walter, Frank Sinatra, Etta James, Bill Withers, and Lead Belly
For Fans of: Amy Winehouse, Billie Holiday, Band of Horses, The Black Keys
Geri X recently signed a deal with Cleopatra Records in LA so she will be busy working on another full length album in the next few months. We'll let you know when it is available. Until then you can find "Work is the Wolf," and all of Geri X's other records on her website.
Catch Geri X live every Monday at Ringside Cafe and every Tuesday at Ale and Witch.
Check out more about Geri X's music, show dates and upcoming album at www.gerixmusic.com.