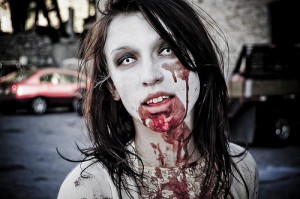 It's October. Time to break out the costumes.
The Second Annual SoHo Zombie Pub Crawl, scheduled for Saturday, October 13, 2012, is your chance to get the season started.
The crawl, which features shot and drink specials at each location, will benefit the Make-A-Wish Central and Northern Florida.
Event will give awards for sexiest, scariest, funniest, and best group theme costumes. The costume contest will take place at MacDintons at 9:30 pm.
Participating bars and times:
3 p.m. – 5 p.m. at Irish 31 (Registration)
4 p.m. – 6 p.m. at Wine Exchange, Cinebistro and Timpanos
6 p.m. to 7 p.m. at the SoHo Saloon and The Lodge Restaurant & Bar
6:45 p.m. to 7:45 p.m. at The Dubliner Irish Pub (Late Registration)
7:30 p.m. to 8:30 p.m. at SoHo Tavern and Mangroves
8:15 p.m. to 9:15 p.m. at Drynk and World of Beer
9 p.m. to 10 p.m. at Yard of Ale and MacDinton's
9 p.m. to 11 p.m. VIP After Party
Tickets are available in a group pack (6 for $120), VIZ (very important zombie, includes free shots $50) and individual ($25) and available online. Purchase tickets.