How often do you ask yourself where you should go for dinner? Those Italian chain restaurants get old after the 100th time, so next time you just can't decide what you're in the mood for, you can pick from my list of some of the best stuff I've eaten in Tampa – enjoy!
Pizza
Sally O'Neil's – If you want the perfect pizza, you have to go here. The crust is amazing, toppings are fresh and the food is "real." No canned stuff hangin' around this place.
Thai
No. 9 Bangkok – Looks pretty questionable from the outside, but inside is warm, clean, and always has such a diverse crowd! Delicious and very inexpensive – a winning combo!
Bistro
Cassis – Beautiful inside and out. It has a young and modern atmosphere that still feels warm and invitinge. A little tip for you: get the blackberry sangria. Actually, get two. If they had a "signature" drink, I'd say this is it!
Coffee
The Eco Bean – In a word: cozy! It looks like it took years for them to accumulate the decorations and like each little accent has its own back story. Delicious brews and so many milk and flavor options you could practically make a day trip out of it! How many local places offer whole, 2% and skim organic milk, plus almond, rice, and soy milk?
Steak
Bern's – I hate to be predictable here, but they really know their steaks. Their aging process must be spot-on because the flavors are second to none. Plus, getting a tour of the kitchen and wine cellar really end the evening on a romantic note.
Indian
Tun-Du-Ree – Clean! One of my favorite qualities in a restaurant! It's delicious and has a really accessible menu if you've never had Indian food before. You can make it extra mild or extra extra hot. It's inexpensive, fast, and flavorful.
Donuts
Nicola's – I wish I could eat here every single day of my life. In one sitting I ate 3 different (huge) donuts and still wished I could have another. These are the best that exist, and if you're ever wondering how to win over your colleagues (or anyone, actually), bring a dozen of these in for breakfast.
About the Author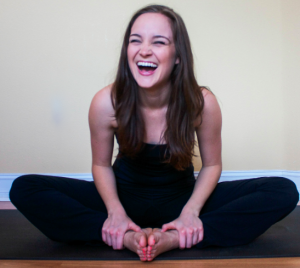 A carnivorous, traveling yoga and pilates instructor with a beautiful, bouncing children's book on the way! She teaches fun & funky vinyasa flow and hot power pilates classes in Tampa, FL. When she's not balancing on her hands, you can find her writing about daily adventures in the kitchen and in life on her blog at www.erinmotz.com.