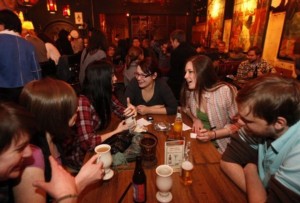 Are you smarter than your friends, and want a chance to prove it?
Or do you want to team up with your other equally smart friends to show off your trivia skills and win some cash?
Or are you just looking for an excuse to meet up with friends for drinks?
Whatever the case, you are in luck. Trivia Nation – "A Drinking Game with a Thinking Problem" – is taking over Tampa.
Five locations in the South Tampa area, host Trivia Nation – a fun, live hosted trivia night that includes cash prizes. This is the real deal, enjoyable trivia with question categories from sports, entertainment, science, geography and beyond so even if you aren't a scholar you'll still be able to get answers like Boston Red Socks and Alf.
Aren't that smart, but want to make sure you can contribute to your team's victory? Check out the Trivia Nation website for a free answer on the day of any event.
Monday
Irish 31  –7:30
Slice  –7:30
Tuesday
The Bungalow –7:30
Wednesday
Wings Gone Wild  –7:30
Soho Tavern –8:00
Trivia Nation One Minute Promo from Iconic Innovations Media Group on Vimeo.
Comments
comments