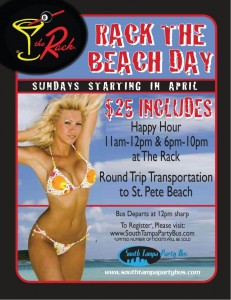 Don't worry about drinking and driving to the beach this summer. South Tampa Party Bus will give you a ride.
Alternating between starting points at Gaspar's Grotto and The Rack (SoHo and Brandon), the South Tampa Party Bus is offering round trip rides to St. Pete Beach on Sundays and holidays this summer. The bus leaves at 12pm sharp and departs from St. Pete beach at 6pm.
Start and end your day at The Rack or Gaspar's with Happy Hour Specials from 11am-12pm and 7pm-10pm for all riders.
Tickets are $25 for the round trip.
So bring your cooler and jump aboard the all express South Tampa Party Bus.
5/27/12- Gaspar's Grotto
5/28/12 (Memorial Day) – The Rack SoHo
6/3/12- The Rack SoHo
6/10/12- The Rack Brandon
6/17/12- Gaspar's Grotto
6/24/12- The Rack SoHo
7/1/12- The Rack Brandon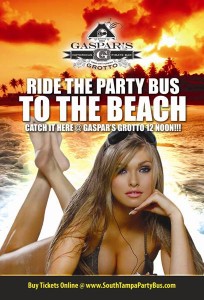 7/4/12 (Independence Day)- The Rack SoHo
7/8/12- Gaspar's Grotto
7/15/12- The Rack SoHo
7/22/12- The Rack Brandon
7/29/12- Gaspar's Grotto
8/5/12- The Rack SoHo
8/12/12- The Rack Brandon
8/19/12- Gaspar's Grotto
8/26/12- The RackSoHo
9/2/12- The Rack Brandon
9/3/12 (Labor Day) – The Rack SoHo
Comments
comments