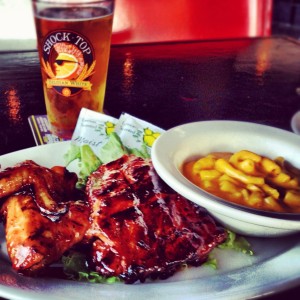 ***Ragin' Grill is now closed.***
WHERE: 1120 E. Kennedy Blvd.
WHAT: Everything that is good about barbecue. So many restaurants claim to be the king of barbeque – but have no meat to back it up. At Ragin', it's real. And there's a method to this delicious madness. All of the baby back ribs, beef spareribs and St. Louis-style spareribs are seasoned with dry rub, smoked for over five hours, glazed and grilled to a caramelized bubbly-perfection before making their way to the plate and falling off the bone.
WHEN (To Go): Before an event at the Forum. Don't waste your money on overpriced arena food when you can get a better bang for your buck (and taste buds) with a pre-game meal at Ragin'. Plus if you are up for little walk through the Channelside district, you can save some more cash by parking at the garage above Ragin' and avoiding the expensive around-arena parking fees.
WHO (To Take With You): Your whole family or group of friends. You can feed a table of four with a Family Pack or fill a crowd of ten with a Ragin' Picnic. It's a cheaper way to enjoy a BBQ feast with friends on a night out and an easier way to feed a group at a gathering with a pack of plenty ribs, sides, and rolls to go around.
WHY: Because you've had enough fried foods. Only one of the regular menu items at Ragin' is fried, so you can add sides that are filled with flavor – not grease. Like the bona fide macaroni and cheese – so gooey and delicious that cheese actually stretches from the plate as you take a bite. And that's just one of the savory side order choices. Choose from list of traditional BBQ sides like collard greens, roasted corn cob, baked beans and more country-style classics.
HOW: 813.223.9006, http://ragingrill.com/; Find it on Facebook
PARKING: Park for free for the first two hours in the Southside parking garage off of Madison St.