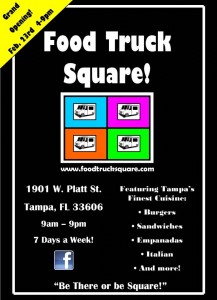 Ok, we've said it before, but now it is even more true – food trucks are taking over Tampa!
Because of the huge popularity of monthly Food Truck Rallies, Flicks and Food Trucks, and The Mayor's Food Truck Fiesta, mobile meal enthusiasts decided one thing was missing from Tampa's truck scene – a daily food truck offering.
Bring on Food Truck Square.
Located in the empty lot just west of Monstah Lobsta at 1901 Platt Street, Food Truck Square will be a daily meeting point for a rotating selection of local food trucks.
Meal sections will vary as much as the traveling kitchens. Cuisines from sandwiches and burgers to Mexican and Asian to dessert and vegan offerings will be available from a list of  participating food trucks that include:
Fire Monkey
Wicked Wiches
Sinful Pleasures
Burger Culture
The Killer Samich Truck
What Ever Pops
Tasty Stacy
Mr. Empanada
And don't forget that Monstah Lobsta will be open for business too.
Food Truck Square will be open 7 days a week for lunch and dinner, and beer and wine will both be available on site.
Follow Food Truck Square on Facebook and Twitter to stay up to date on the day's participating food vendors.
Food Truck Square's Grand Opening
And don't forget to join almost a dozen of Tampa's finest meals on wheels for the Food Truck Square's Grand Opening on Thursday, February 23.