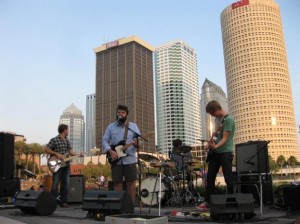 Get ready to rock, Downtown Tampa. The Garparilla Music Festival is coming.
On Saturday, March 10th, Curtis Hixon Park will be transformed into a full-blown music festival, complete with three stages and an entire day of sound celebration. Acts will be spread throughout the park with performances happening on stages in Curtis Hixon Park, Kiley Gardens and the in Kiley Gardens' amphitheater (for special acoustic performances).
Tickets to the first ever Gasparilla Music Festival are a meager $15/person. This is an awesome deal for a day of live music that starts at 11am and rocks until 11pm.
The Gasparilla Music Festival is the "vision of a group of Tampa residents passionate about continuing the cultural development of the bay area."  And located under the towering skyscrapers, modern museum fronts and gleaming University of Tampa Minarets, Curtis Hixon Park couldn't be a more perfect place to celebrate all things Tampa during this awesome local and live event.
Participating bands include:
Deer Tick
Bebirth Brass Band
Alvin Young Blood Hart
The Lee  Boys
Have Gun Will Travel
Kaleigh Baker
For a full list of participating bands visit our Gasparilla Music Festival Lineup Cheat Sheet. It includes performance times, brief band profiles and musical style descriptions. It's a lifesaver!