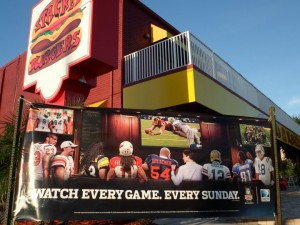 **Stacked Burgers is now closed.**
WHERE: 1617 W. Platt Street.
WHAT: An achievement in Burger engineering. The kitchen of Stacked Burgers is a culinary construction zone where chefs amazingly stack two quarter-pound steak burgers, cheese, and extra toppings that include choices of lettuce, tomato, onion, sautéed onions, chili, sauerkraut, mushrooms, and salsa between a sesame seed bun.
WHEN (To Go): When Staked has it out for the keg. Every Thursday, Friday and Saturday starting at 10pm, Stacked hosts "Kill the Keg." Order a burger entrée and you can drink for free until the keg runs dry.
WHY: Because everyone needs a break from their diet. Indulge in a trip to Stacked and treat yourself to a banging burger as well as every other fried food you can possible crave. Whether your need curly or sweet potato fries, chicken wings or tenders, fried pickles, shrimp, zucchini or onion rings – Stacked has you covered.
WHO (To Take With You): The friend with an fixation on a good food challenge. Staked Burger has got a fast-paced food challenge fit for the friend willing to chow down. One pound (four patties) of burger, 4 slices of cheese, lettuce, tomato, onion and two side items is free if eaten in two minutes or less. Sounds impossible? Bring the friend crazy enough to try!
HOW: www.stackedburgers.net; Find it on Facebook