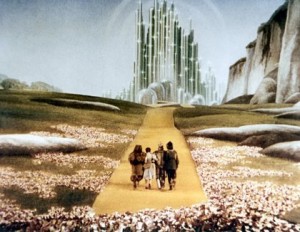 There is nothing like stepping out of the blazing summer heat and taking cover in the shelter of a cool, dark movie theater.
And this summer the Tampa Theatre is offering on oasis from the heat in the form of Sunday (& occasional Saturday) afternoon classic movies.
So cross off a few of those must-see movies from your "Greatest Films of All Time List" and see for yourself why everyone says that The Godfather is a classic and Gone with the Wind is one of the best stories ever told.
Some can't miss movies include:
THE GODFATHER, Sunday, June 26 at 3pm – Restored 35mm Print! Marlon Brando, Al Pacino, James Caan – Francis Ford Coppola's epic film spans 10 years (1945-1955) in the life of the fictional Corleone crime family. Marlon Brando stars as patriarch and mafia kingpin Don Corleone in this bloody tale of conflict, betrayal and unrefusable offers. Upon its release in 1972 the film was widely praised by real-life gangsters. "I left the movie stunned… I mean I floated out of the theater. Maybe it was fiction, but for me, then, that was our life. It was incredible. I remember talking to a multitude of guys, made guys, who felt exactly the same way." Sammy Gravano, former underboss of the Gambino family.  Directed by Francis Ford Coppola.  Rated R/1972/2:55/crime drama  POST FILM TALK WITH HARRIET DEER. GODFATHER TRIVIA: Author Mario Puzo based Don Corleone's character on real-life mob boss Frank Costello.  Known as "The Prime Minister of the Underworld," Costello was one of the most powerful and influential mafia bosses (and TT's Tara Schroeder's great, great uncle.)
SOME LIKE IT HOT, Sunday, July 3 at 3pm, Tony Curtis, Jack Lemmon, Marilyn Monroe – When two Chicago musicians accidentally witness a gangland shooting, they quickly board a southbound train to Florida, disguised as Josephine and Daphne, the two newest and homeliest members of an all-girl jazz band. Their cover is perfect… until a lovelorn singer falls for Josephine, an ancient playboy falls for Daphne, and a mob boss refuses to fall for their hoax!  Directed by Billy Wilder.  1959/2:00/comedy
CASABLANCA – TWO SHOWS! Saturday, July 9 at 3pm & Sunday, July 10 at 3pm, Humphrey Bogart, Ingrid Bergman – A truly perfect movie, triple Oscar winner CASABLANCA still wows viewers today with its unique story of a love triangle set against the terribly high stakes of World War II. Humphrey Bogart plays the allegedly apolitical club owner in unoccupied French territory that is nevertheless crawling with Nazis; Ingrid Bergman is the lover who mysteriously deserted him in Paris; and Paul Heinreid is her heroic, slightly bewildered husband. Claude Rains, Sydney Greenstreet, Peter Lorre, and Conrad Veidt round out arguably the best supporting cast in the history of Hollywood films.  Directed by Michael Curtiz.  Not Rated/1942/1:42.  POST FILM TALK WITH HARRIET DEER (Sunday show only).
GONE WITH THE WIND – Sunday, July 17 at 3pm – Vivien Leigh, Clark Gable, Leslie Howard, Olivia de Havilland, Hattie McDaniel – The epic tale of the indomitable Katie Scarlett O'Hara Hamilton Kennedy Butler, and her passionate life and many loves during the tumultuous Civil War and Reconstruction Eras in the American South. From her young, innocent days on a feudalistic plantation to the war-torn streets of Atlanta; from her first love whom she has always desired to three husbands; from the utmost luxury to absolute starvation and poverty; Scarlett survives it all to see 'anutha day'. This much-beloved classic and winner of 8 Oscars is a masterpiece of meticulous backdrops, glorious sunsets, numerous silhouettes, and ultrasaturated Technicolor which creates a hyperreal vision. The romantic score is every bit as lush and dramatic as the photography, borrowing folk melodies from the Old South to make the tragic war concrete. Heavy nostalgic tones pervade the often witty dialogue and larger-than-life charms and faults of the leads. Directed by Victor Fleming, George Cukor (uncredited) and Sam Wood (uncredited)  Not Rated/1939/3:58 plus intermission
SING-ALONG WIZARD OF OZ – TWO SHOWS! Saturday, July 23 at 3pm & Sunday, July 24 at 3pm – Judy Garland, Margaret Hamilton, Ray Bolger, Burt Lahr, Jack Haley – Sing along with the lyrics on screen! Join the Audience Costume Parade! There's no place like Tampa Theatre to see this beloved classic.  Sing your heart out with the help of on-screen lyrics.  Come dressed a costume inspired by the movie or in character and be invited to join the Audience Costume Parade on stage before the movie.  Join Dorothy, Toto, the Scarecrow, the Tin Man and the Cowardly Lion as they fend off the Wicked Witch and her band of flying monkeys on their way to meet the Wizard who will grant their wishes.   Directed by Victor Fleming.  1939/1:41/family
THE DAY THE EARTH STOOD STILL – Sunday, August 14 at 3pm – Restored 35mm Print! Michael Rennie, Patricia Neal, Hugh Marlowe -Klaatu the alien and his massive robot Gort land on Earth at the height of the Cold War with a cautionary message for the human race: learn to live peacefully or face extermination as a warning to other planets. Patricia Neal co-stars as a young mother who assists the strange visitors. Directed by Robert Wise. 1951/1:32/sci-fi
The Tampa Theatre is located in Downtown Tampa. Tickets are $9. Click here for the Full List of Summer Classic Series.