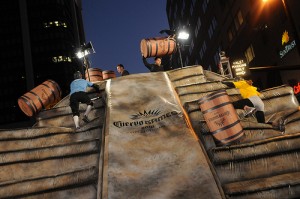 Only one of the biggest names in booze and the country's leading men's lifestyle brand could pair up to come up with an event quite like The Cuervo Games. This FREE event, sponsored by Jose Cuervo and Maxim Magaine,  (for the 21+ crowd) is a combination of all things good – high-energy competition, live music (concert by B.o.B.) and Tequila.
The Cuervo Games are a competition described as "WipeOut Meets American Gladiators." Local teams of four compete in intense physical and mental challenges such as scaling a 20-foot rock climbing wall as they're drenched by rushing water in the Waterfall Climb, capturing flags from the Barrel Roll Mayan Pyramid, surviving the Agave Gauntlet's passage of various obstacles, and finally braving any fear of heights to capture agave leaves 30 feet in the air during the Highwire Harvest. Check out a video of the fierce competition.
Contestants of the Cuervo Games will compete in a race against the clock, which includes, "a labyrinth of physical obstacles, ridiculous pitfalls, intense dares, spectacular wipeouts"  to claim the local title and advance to the national finals. The winning team will earn a free trip to the Cuervo Games National Finals where they will proudly represent their hometown.
Want to compete? For more information about how to get your 4 person team in the games, visit Cuervo Games on Facebook. To tryout, start a team on Facebook and get friends to vote for you. The teams with the most votes compete locally to go to the National Finals in Las Vegas for a chance to win the legendary Grand Prize. 
But this festival is more than just games. In addition to the live competition, Cuervo Games will feature a special musical performance by national act B.o.B., appearances by the Cuervo Girls, Ride the Lime (a mechanical bull – that's a lime), a live runway style competition with local Hometown Hotties and of course Jose Cuervo!  
WHEN:  Saturday, June 18, 2011 (times are subject to change) 
3:30 PM – Qualifier Round Begins
7:30 PM – Event Doors Open
8:00 PM – Maxim Hometown Hotties Competition
8:20 PM – Cuervo Games Finals
9:30 PM – Performance by B.o.B
WHERE:   7th Ave and 14th St. – YBOR CITY
Updated 6/20/11 – Click here for Coverage of the Event.