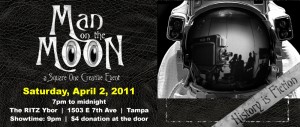 Art, Fashion, Dance and Music all under one roof for a $4 admission sounds like a dream.
But on Saturday, April 1, that will be a reality as Square One Events hosts Man on the Moon – an insanely, awe-inspiring art event at the Ritz Ybor.
The 4th Annual Spring event will feature over 75 local artists, 50 musicians, dancers and models, and a stage showcase starting at 9pm. The theme will revolve around history vs. fiction, as in the man on the moon – hoax or reality.
With an admission price of $4, which is considered a donation to the Tampa Bay Businesses for Culture and the Art's High School Stars Scholarship, there is no excuse for not at least stopping by this art extravaganza.
Square One hosts biannual creative events that are the largest and most awarding-winning, local creative and performing art showcases in Tampa. The event has drawn over 10,000 attendees since it debuted in 2008.So get your tickets now so you can be there as Tampa comes alive in art.