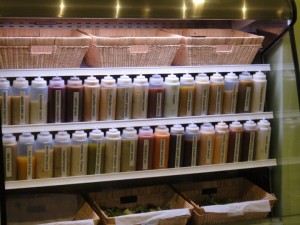 WHERE: 507 North Franklin St.
WHAT: Breakfast and lunch eatery with an army of vegetables, fruits, nuts, cheeses, deli meats and other fine flavors (100 ingredient options) just waiting to be assembled into one of Fresh's killer signature salads, paninis, omelets, frittatas and desserts.
WHY: Because salad can be more than diet food. The enormous salad (& dressing) selection at Fresh is proof that lettuce doesn't have to be boring. The greens at Fresh are simply the blank canvas for over 30 different carefully crafted signature salads that combine flavors of all forces to make magic happen between the leaves. Your diet never tasted so good.
WHEN (To Go): Saturday or Sunday mornings before 11am. Few things are worth rolling out of bed before noon on the weekend. But Fresh's Panini Frittatas might make setting that Saturday and Sunday alarm worth it. But don't fret if you hit the snooze one too many times, Fresh offers build your own breakfast omelets all day long.
WHO ( To Take With You): The middle schooler in your life. Whether it is your younger sibling, the kid you babysit, or your underdeveloped roommate, the kid in your life will certainly appreciate Fresh's hefty cereal selection. With over 25 choices of cereal brands, Fresh's cereal bar menu will bring out the kid in anyone. You can choose one flavor for your bowl or mix and match or try a Fresh signature blend that often includes a dry cereal, fresh fruits and/or nuts and even a milk flavor shot.
HOW: P. 813-229-5500; On Facebook; On The Web; Menu