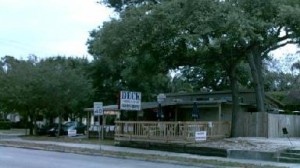 WHERE: 2202 W. Platt Street
WHAT: The real deal pizza hut. The Deck isn't about fancy interiors or corny gimmicks. It is what it is – a small stature building with a window big enough to fit fantastic, thin crust delicious circular creations. Here, it's all about the slice and the surrounding wooden patio. (There is inside seating, but the real party is obviously on the deck.)
WHEN (To Go): Dollars are as good as gold every Wednesday at the Deck. Single slices, draft beers and house wines are just one buck each.
WHO (To Take With You): Your best beer pong ringer. With plenty of outdoor room on the deck and in the parking lot, the Deck has room for pong play just like a house party. Finally a bar that can actually support an arena for beer's favorite sport.
WHY: Because it's good to soak up the booze. The Deck is open late (until 3 am) on Friday and Saturday nights so make sure you have a pizza pit stop on your way home from SoHo's bars. Your stomach will thank you in the morning.
HOW: p. 813-250-1525 (They Deliver); http://www.thedeckpizza.com/; Facebook
Comments