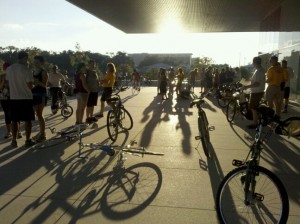 Looking for an excuse to go ride your bike that has been parked on your patio for two months? Or how about a good reason to stop in for snacks and cocktails at five Tampa restaurants?
Well during the Urban Restaurant Tour you can have it all.
The monthly bike tour, held on the last Thursday of the month and hosted by City Bike Tampa – a locally owned and operated specialty bicycle shop, is a guided bike ride that begins and ends in downtown and stops at five participating restaurants for free samples, specials and complimentary appetizers along the way.
The ride starts at 6:00 pm and costs only $13.60. Be advised this is a BYOB event. In other words if you want to ride – Bring Your Own Bicycle. (City Bike Tampa offers bike rentals during the day, but due to insurance reasons they cannot rent bikes during the evening and night, therefore rentals will not be available for the event.)
Last month's event had over 120 riders so it is recommended that planned participants register ASAP (Click here for registration information. Or call 813-225-1777.
The ride commences with a raffle drawing for prizes at the final destination.
Do you really need more of a reason than this to eat and exercise and explore?
Click here for more information on Urban Restaurant Tour.
City Bike Tampa Details
p. 813-225-1777 212 E. Cass St.
Web
Facebook