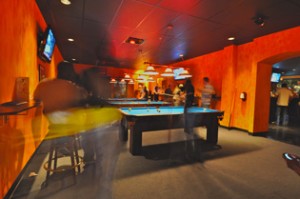 CLOSED
WHERE: Hyde Park – 1809 W. Platt St.
WHAT: East meets West sports and sushi bar. Sometimes you can have it all. The Rack has billiards, flat screens, nachos and sushi all under one roof.
WHEN: Mondays and Thursdays from 7pm – 9pm. What's better than a buffet? An unlimited menu and open bar, that's what. The Rack offers unlimited select sushi rolls, appetizers, wine, liquor and draft beer for $20. So sample away!
WHY: Because Tampa is full of restaurants with sushi, but none of them are quite like this. It seems like nowadays every restaurant in South Tampa has a sushi selection on their menu. Don't be fooled. Sushi at The Rack isn't a menu-filling afterthought. The billiards bar concept might be misleading but the sushi here is the real deal.
WHO (To take with you): Your friends that never want to go for sushi with you. If the idea of eating raw fish sends your buddies running, invite them to The Rack. Since the menu is a perfect mix of sushi and bar food, you will all find something suited for your style. And with sushi this good, if you can convince your nay-saying friends to try it, they may even change their mind about raw fish.
HOW: 813-250-1595; www.hittherack.com; Lunch Menu; Dinner Menu; Sushi Menu