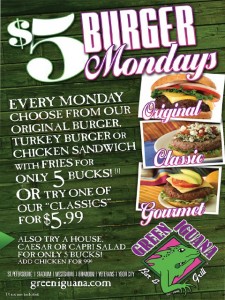 Just because Monday is arguably the worst day of the week, doesn't mean you have to sit at home and sulk. So before you decide to lie around all night and dread the rest of the workweek, check out our list of Monday Deals and Steals that might make you feel like removing yourself from your couch.
Green Iguana – Ybor (& all other locations) – $5 Burgers and Fries Until 10 pm
The Retreat – Downtown/Hyde Park – Yard Night; Purchase your Retreat Original Yard Glass and get refills for only $4
Yard of Ale – SoHo – Come in and enjoy $2 TACOS, $3 Corona of Corona Light bottles,and $15 Pitchers of Margaritas (Lime, Strawberry, or Mango) from 7PM til Close. JENGA TOURNAMENT  sponsored by Dos Equis. Starting at 7:30PM and featuring $3 Dos Equis drafts.  Prizes awarded every week.
The Green Lemon (The Lime) – SoHo – $10 Margaronas (Margaritas with a Corona), $5 Margaritas
Stacked Burgers – Hyde Park – 8 pm- Close. Get a FREE pitcher of Domestic Draft Beer when you order 20 wings. Longneck buckets of Bud & Bud Light, 5 for $10.00.
MacDinton's – SoHo – Service Industry Night – $3 Wells, Calls, Domestic Drafts and Jager; $3 Guinness, Smithwick's, and Harp; $2 Three Olives Drink Specials; $5 Bombs
Three Olives Bottle Service; Must bring pay stub to show you're in the industry.
The Anchor Bar – Davis Islands – $7 Domestic Pitchers; 50 Cent Wings
The Wine Exchange – Hyde Park – ½  Off Select Bottles of Wine
The Bungalow – Right Around – 1/2 Off for Hospitality
Hattricks – Downtown – Bucket Specials and $1.50 Drafts 4pm – 8pm & 10pm – Close
The Bricks – Ybor – 1/2 Price House Wines, Well Drinks, and Select Drafts
Bernini – Ybor– $2 Finlandi Martinis and 1/2 Price Pasta and Entrees 4pm – 7pm
Hyde Park Pita Pit– SoHo – $5 for Any Pita and Soda for College Students
Did we miss something? Another great Monday Night Deal we forgot to add to our list? If so, let us know?
Please keep in mind that things don't always go as planned and specials are subject to change. So if you get to one of our deal spots and your server looks at you like you are crazy when you say you won't pay full price, please don't blame us!
Comments
comments