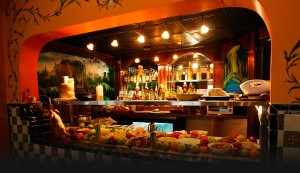 Local restaurants sure like to use a play on words for their Tuesday night specials. Whether it is using the alliteration of the T sound for Tapas, Tacos and Trivia or taking a more literal approach and making it Two Dollar Tuesdays, it seems like everyone is trying to give you a reason to get out this Tuesday.
Ceviche – SoHo – Tapas Tuesdays – 30 Different Tapas Under $4; $4 Sangria
The Green Lemon (The Lime) – SoHo – Taco Tuesdays: $2 Tacos; $2 Coronas
The Bricks of Ybor – Ybor – $2 Wheeled Tuesday$ – $2 16 oz. Cans and Well Drinks
Stacked Burgers – Hyde Park – 5 pm- Close. Hospitality and Hospital night! $1 PBR, $1 shots, 25% off food. Show Hospital or Hospitality paystub or wear Dr./Nurse attire.
Timpano's – Hyde Park – Ladies Night – $3 Select Martinis and Wines; Complimentary appetizers; Live Acoustic Music 4:30 – 7:00; Live Jazzy, Contemporary Cover Band starts at 7:30
The Bungalow – Right Around (Kennedy Blvd.) – $5 Bungalow Nachos; Trivia Night
SoHo Tavern – SoHo – $5 Burger & Draft Beer; $3 Pinnacle Vodka Drinks
The Anchor Bar – Davis Islands – $3  Harpoon Pints
Yard of Ale – SoHo – All Day: $5 Small Pizzas, Calzones and Subs; Labtt Hockey Night 7pm-Close : $4 Labatt Blue & Labatt Blue Light
World of Beer – SoHo – 25%  Off All Bottles with Loyalty Card
Hyde Park Café – Hyde Park – Hospitality Night – Doubles for Singles Prices
Hattricks – Downtown – 4pm – 8pm & 10pm – Close: Bucket Specials and $1.50 Drafts
Bernini – Ybor– $2 Finlandi Martinis and 1/2 Price Pasta and Entrees 4pm – 7pm
The Lodge – SoHo – Sushi Tuesdays; Choose from a Selection of $5 Sushi Rolls
The Retreat – Hyde Park – Lingerie Night: $2 Bud, Bud Select and Bud Light Bottles; $4 Skyy, Cruzan and Jim Beam
Yeoman's – Davis Islands – Open Mic Night 9pm
MacDinton's – SoHo– $2 Tuesdays: $2 Sam Adams & Sam Adams Seasonal Drafts; $2.50 Three Olives Vodka Flavors; $3 Build Your Own Burger; 10pm – Close: Karaoke
Acropolis – Ybor– 2 for 1 Margaritas and Sangrias; Live Music
Sail Pavilion – Downtown – 2 for 1 Draft Beer, Well Liquor Drinks and House Wine 5pm – 7pm
Britton 8 – Right Around (S. Dale Mabry) – $1 Admission to All Movies (The Movies are a little older but for a Dollar who cares? Click here for Showtimes)
Did we miss something? Another great Tuesday Night Deal we forgot to add to our list? If so, let us know?
Please keep in mind that things don't always go as planned and specials are subject to change. So if you get to one of our deal spots and your server looks at you like you are crazy when you say you won't pay full price, please don't blame us!
Comments
comments