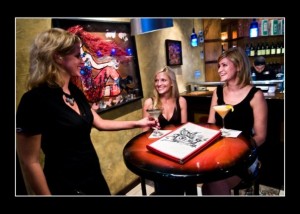 Wednesdays are good days for the Ladies of Tampa Bay. Check out our list of local Ladies Nights and other great food and drink specials around Tampa on this lovely hump day.
Cheap – SoHo– Ladies Night – Ladies Enjoy ½ Price Specialty Rolls and $1 Select Crudo Bites; 1/2 Priced Sangria; $3 Featured Wines and Stoli Martinis
Blue Martini – Right Around (Westshore) – Ladies Night; Ladies Receive 1 Free 3 Olives Drink
The Lime – SoHo – Ladies Happy Hour All Night; 6pm – 7pm: Buy One Get One Free Sangria for Ladies
Stacked Burgers – Hyde Park – 5 pm- Close. FREE pitcher of Domestic Draft Beer when you order 20 wings. $2 well brands. Longneck buckets of Miller Lite & Coors Light, 5 for $10.
The Rack – Hyde Park–  $3 Menu Martinis, $3 Craft Beers, Half Price Bottles of Wine, %50 Off Select Specialty Rolls
The Bricks of Ybor – Ybor – Wine Down Wednesdays – 1/2 Price House Wine Bottles
Yard of Ale – SoHo – 8-1om pm: Live Trivia, $4 Yards of Select Drafts, $4 3-Olives Drinks, 50 Cent Wings
The Dubliner – SoHo – $6.00 Liter Night
The Anchor Bar – Davis Islands – Liter Night – $3 Select Wines
SoHo Tavern –SoHo – Italian Night; Select Italian Entrees $5; Pinnacle Vodka Drinks $3
The Lodge – SoHo – WTF Wednesday's – $5 Burgers, Pizza, Sushi, Dozen Wings and Domestic Draft Pitcher
The Lime – SoHo – Ladies Sangria Hour; Free Sangria for Ladies 6-7pm; Ladies Happy Hour All Night
MacDintons – SoHo–  7pm – close: $2 Heineken, $4 Three Olives Drinks, $5 Johnny Vegas Shots; 9-11pm: $10 Open Bar
The Retreat – Hyde Park – College 101 – $1 Bud Select Draft; $3 House Wines; $8 Domestic Pitchers
World of Beer – SoHo – 9pm – Close: 1/2 Off Select Drafts with Student ID
Hula Bay – Right Around (Off of Westshore) – All You Can Eat Crab Legs or Shrimp
The Fly – Downtown – ½ Off Bottle of Wine
The Bungalow – Right Around (Kennedy Blvd.) – All You Can Drink White and Red Wine 5pm – 7pm
Taps – Downtown – $4 Wines and ½ Off All Drafts
Hattricks – Downtown – Bucket Specials and $1.50 Drafts 4pm – 8pm & 10pm – Close
Bernini – Ybor– $2 Finlandi Martinis and 1/2 Price Pasta and Entrees 4pm – 7pm
Did we miss something? Another great Wednesday Night Deal we forgot to add to our list? If so, let us know?
Please keep in mind that things don't always go as planned and specials are subject to change. So if you get to one of our deal spots and your server looks at you like you are crazy when you say you won't pay full price, please don't blame us!
Comments
comments