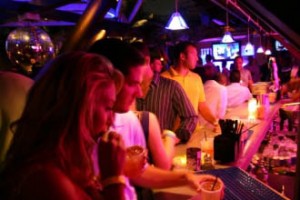 Friday is finally here and although most of you don't need a drink special or cheap food to convince you to get out tonight, here is a list anyways.
MacDintons – SoHo– $10 Open Bar (Draft Beers, House Wines, Wells, Jack Daniels, Finlandia and SoCo) 6pm – 8pm
Hyde Park Café – Hyde Park – Flip Flop Fridays; $10 Open Bar (Select Beers and Vodka) 8pm – 10pm (Show up early for happy hour and for every hour before 8pm pay $5 and start the Flip Flop Happy Hour NOW.)
The Retreat – Downtown/Hyde Park – $6 Jack Daniels Liters; $3 Domestic Drafts
The Bricks of Ybor – Ybor – 10pm – close. Live DJ's, $4 House Wine, $5 Red Bull Vodka
Mangroves – SoHo – Ladies All You Can Drink Complimentary Open Wine, Sangria, Champagne and Bellini Bar from 9pm – 11pm
Yard of Ale – SoHo – Pick and Mix; 15% off of Any Pick and Mix Buckets of Beer; $3 Beer Shots
The Anchor Bar – Davis Islands – Liter Night; Choose $6 Liters – Your Choice of 16 Different Drafts
Acropolis – Ybor– 2 for 1 Sangrias and Margaritas and Belly Dancers All Day
Hattricks – Downtown – Bucket Specials and $1.50 Drafts 4pm – 8pm & 10pm – Close
Bernini – Ybor– $2 Finlandi Martinis and 1/2 Price Pasta and Entrees 4pm – 7pm
Did we miss something? Another great Friday Night Deal we forgot to add to our list? If so, let us know?
Please keep in mind that things don't always go as planned and specials are subject to change. So if you get to one of our deal spots and your server looks at you like you are crazy when you say you won't pay full price, please don't blame us!
Comments
comments