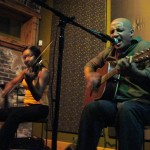 The music of Shane Meade and the Sound should be served with a glass of wine and a long exhale, barefoot and beachside. And if you aren't lucky enough to have those things while listening to The Sound, it isn't hard to pretend. No matter where you are, hearing the opening cords of a The Sound song is like taking the first glorious steps into a vacation oasis.
Throughout the Tampa Bay area, listeners have been whisked away during live performances of Shane Meade as a solo artist and as the front-man of Shane Meade & the Sound for nearly six years. As a full-time musician who started writing and playing music in 2000, Meade often plays around the Bay area, continues to tour the southeast, and has traveled as far away as St. John in the U.S. Virgin Islands to perform.
Meade's music, influenced by acoustic soul, rhythm and blues and the mountains of West Virginia where he grew up, is an escaping yet personal sound that makes it possible to flee the stresses of the everyday without leaving your seat (unless you want to dance). You can sit back, relax, or "just boogie your blues away", as the lyrics encourage you to do.
And around the neighborhoods of South Tampa, it isn't hard to catch a live Meade performance. He frequently plays shows at Hyde Park and Downtown hot spots, Smoke, Gilligan's, Cork and the Dubliner, among other places. (Click here for a complete list of upcoming performances.)
But if you aren't able to catch a show in person, you can bring the Sound home with you. In December, SMS released their second studio album, Candle Lights & Conspiracies. The two-disc album features nineteen songs, balanced by a complimentary mix of acoustic and full-band arrangements.  Six of the tracks are re-recorded versions of favorite tracks from SMS's debut album (Time Waits for No One), making this ultimate collection of this ever-rising and enchanting Tampa band a must have.
The tracks from Candle Lights & Conspiracies melt into your eardrums and leak into your soul. Meade's smooth and warm vocals are inviting and enticing, making the album the perfect companion for a long drive, a beach walk or an evening at home alone or with friends.  All of the elements of Candle Lights & Conspiracies swell together in perfect harmony creating an album full of intrinsic value and forming the most relaxing and intuitive soundtrack to wherever your wandering life leads you.
DETAILS www.shanemeade.com Schedule of Upcoming Shows Contact Shane Meade Sample and Buy The Album The current SMS line-up features: Shane Meade: vocals, guitar, percussion; Jason "Fil" Pate: lead guitars, mandolin, banjo, percussion; Chris Guerre: upright/electric bass; Albert "Newbeat" Warren: drums Special Guests/Musicians: Rob Masten (Saxophones & Flute) Bo McMillion (Bass) Andrew Warren (Bass/Electric Guitar) Colleen Dugan (Drums/Percussion)